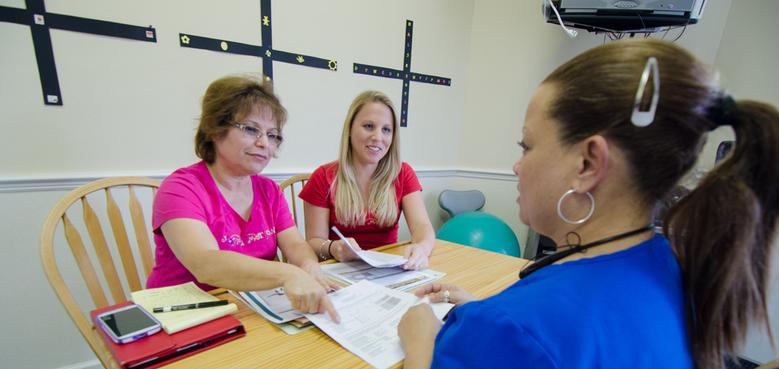 We are pleased that you are considering Joyful Motion as a center for your infant or child. If you are new to therapy, we understand that it can be overwhelming at times. We are here to help you in any way that we can. Here is some information regarding how the evaluation process works. Each child will require a thorough evaluation so the therapists can develop a personalized plan of care and recommendations. If your child has had an evalution within the last 6 months, a new evaluation will not be required if you provide a copy of the evaluation and a recent prescription.


Evaluation Process



1. Please call 727-773-2687 to speak with our Patient Care Advocates, either Paula or Janice. They will review concerns regarding your child and take down general information to relay to our patient care advocate to determine if our therapy team will best serve your child. The Patient Care Advocate then discusses your child's needs with the therapy team to insure good placement within our center with the most appropriate therapist and possible scheduling options.

2. The Billing Advocate will review your coverage and call you back to discuss financial arrangements. We do work with out-of-network insurance coverage in creative ways.

3. Our Patient Care Advocate will contact you with any available evaluation times and provide you with a new patient intake package which can be completed online with a code. We can also mail you a form if you prefer.


4. Please arrive 10-15 minutes early for the evaluation to finalize paperwork and make any payments.

5. When you and your child arrive for the appointment, a therapist will come out to greet you and bring your child back into the clinic for the evaluation. Typically, children work with the therapists by themselves to allow the therapists to get a good picture of the child without distractions. Of course, it will depend on the age and diagnosis of the child - certainly all parents are welcome with infants.

6. The evaluation will take from 1-2 hours, depending on the type of evaluation. At the end of the evaluation, the therapist will require 1-2 weeks to score the tests and write up a very comprehesive report. It will be best to wait until all the test are analyzed and scored before discussing the results with you. Sometimes for physical therapy, this process is expedited as the testing is not as extensive as occupational or speech therapy.

7. After the report is completed, our Patient Care Advocate will call you to schedule a meeting for you to discuss the results with the therapist(s). We encourage both parents and any caregivers to attend the meeting. It will be very beneficial for the parents to come without children for the meeting so they are able to focus on the results and recommendations.

8. At the meeting, the results of the tests and why those results are important will be shared with you. The therapist will discuss the plan of care for your child and how much therapy is recommended. If your child does need treatment, the administrative team will do their best to find a treatment time that will work for you and your child. Our treatment sessions are always one hour long.